CELEBRATING BARRIEFIELD
BVA publication – Barriefield: Two Hundred Years of Village Life
See information about the book here.
Edited by Bob Cardwell, Barb Carr and Christine Sypnowich, the book, Barriefield: Two Centuries of Village Life, was published in 2015 and reprinted in 2017 to showcase the village's heritage on the occasion of its 200th anniversary. Published by Quarry Press, the book contains essays, recollections, maps, historic photographs, and art, and was described as 'a magnificent collection' by celebrated author Wayne Grady in his review in the Kingston Whig Standard. The BVA won a Lieutenant-Governor's Heritage Award for Excellence in Conservation for the book and our heritage celebrations.
The book can be found at Barriefield Antiques, Novel Idea and Indigo Books.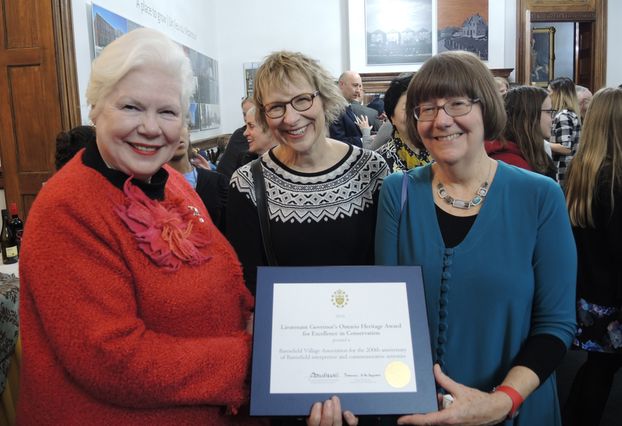 Commemorating the village's two-hundredth anniversary
Barriefield marked the village's 200th birthday with an ambitious roster of events and activities.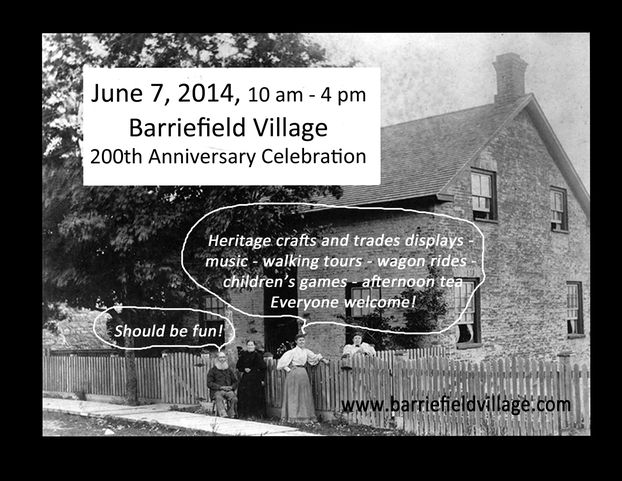 David McCallum's acclaimed documentary, Barriefield: Kingston's Heritage Village,' premiered on June 5, 2014, to two packed theatres at the Screening Room cinema. An expanded version of the film was premiered at the Kingston Canadian Film Festival two years later.
On June 7, 2014, the village held a tremendously successful Heritage Festival. Here is a list of the highlights:
Over 2,000 people attended, with queues of cars on Hwy 15 waiting to enter much of the day

Close to 150 people went on the guided tours (given by Maureen Eagan, Craig Sims and Christine Sypnowich – so many that extra tours had to be staged)

The Anglican Church Women of St. Mark's made $700 from their Victorian Tea and $500 from the bake sale to go towards their outreach efforts

A specially brewed root beer named after Barriefield's famous bootlegger, donated by the Brew Pub, ran out by around 2pm

Tracy and John Bron's hotdog cart ran out of hotdogs and had to run for extra supplies

Jane Etherington's popcorn and Farm Girl foods both had a roaring trade all day

There were a wide array of history, artisan and trades displays: the Maclachlan Woodworking Museum, window maker David White, chair maker Art Shaw, Kingston Spinners and Weavers, blacksmith Colin Davies, stone mason Patrick Jenkins, Joe Bernard from Kingston Woodturners, Preserve Our Wrecks, Tim Soper's WWI display, Ballycanoe & Co. antique hardware, Purlin' J's Roving Yarn Company

'Old Barriefielders,' many of whom were the first graduate class at JE Horton, came by the dozen, thanks to the excellent organization of former principal Ken Keyes

A diverse musical programme with all acts (Celtic Rumblings, Wolfe Island Revellers, the Sessioneers and Open Voices Community Choir) kindly performed free of charge

Scores of walking tours and Robert Barrie brochures were picked up

100 commemorative Tee shirts were made and almost sold out

Villagers decorated their houses, put up displays and even opened their homes to visitors

Town Crier Chris Whyman, after a rousing tribute to the village, led a crowd of 100 to the Frontenac County Schools Museum to the ceremony commemorating the museum's grand reopening

The Heritage Children's Games and Races led by St. Mark's Church Sunday School teacher Erin Gray were busy throughout the day

St. Mark's Church was buzzing with tours by Bill Patterson, screenings of the documentary, sales of archival literature by the Pittsburgh Historical Society, organ music played by Sharon Beveridge

There was a constant hubbub from White's horse-drawn wagon rides, the hop-on and hop-off service of Kingston Trolley Tours, and swarms of people wandering around the village

There was on display restored St. Lawrence River skiffs by Mac Freeman and Joe Calnan, and one by Hans Westenberg down at the water's edge of Green Bay, an evocative reminder of Barriefield's history as a boating and boat-building village

Pomp and ceremony was provided by the Fort Henry Guard, the Historical Costume Club of Kingston and Heritage Ambassadors of Kingston

A special 'Barriefield 200 Ale' continued to be on tap at the Kingston Brew Pub throughout the summer of 2014 to mark the 200th anniversary

There were speeches of congratulations and good wishes from Major Chris Catry of Canadian Forces Base Kingston, MP Ted Hsu and Councillor Brian Reitzel

There was media coverage in the Kingston Whig-Standard, EMC Heritage Kingston, Kingston East News, Station 14, and the Kingston Report by J.C. Kenny on CBC Radio

A range of sponsors made the event possible: Base Commander Francois Chagnon and his colleagues at Canadian Forces Base Kingston; Canadian Heritage; the Pittsburgh Community Benefit Fund; the Britton Smith Foundation; Taggart Construction; Marathon Drilling; the Eastern Ontario Events Centre; the Kingston Brewing Company; Send in the Clowns, Limestone Music, the Screening Room, and the Limestone District School Board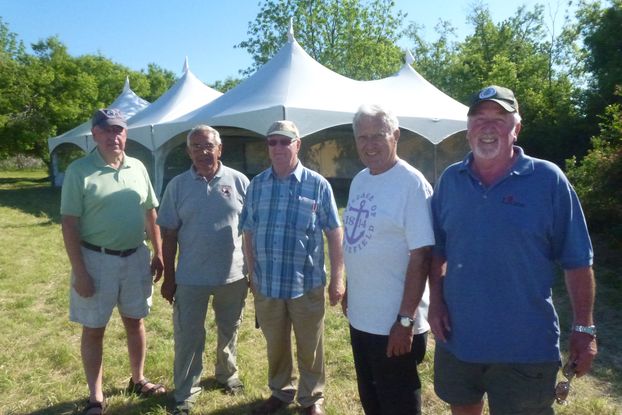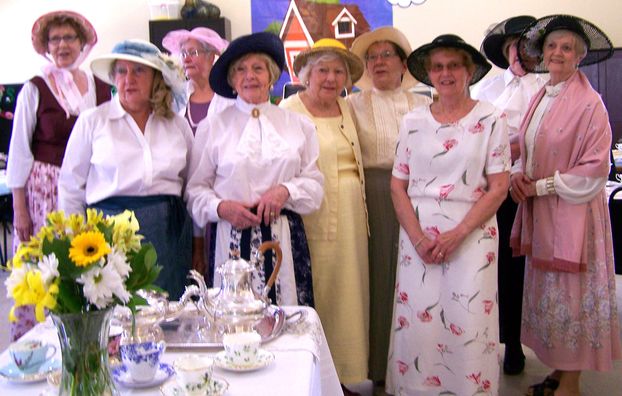 Barriefield Oldtimers return to the village for the 200th Anniversary Heritage Festival (left), and St. Mark's Anglican Church Women put on a Victorian Tea at the Festival (right)
Heritage Continues to Come Alive
The village's heritage has also been showcased in a number of other ways:
The BVA conducts annual walking tours of the village under the aegis of Jane's Walks, but also on demand (e.g. Canadian Society for Decorative Arts, Frontenac Heritage Foundation – contact the BVA if you would like to arrange a walk for your group)

The Kingston Tour Trolley runs through Barriefield throughout the tourist season

A special exhibition at the Marine Museum about the village's boat-building history was held in November 2014

A Dry Stone Wall Festival was held in 2017 in which the BVA collaborated with Dry Stone Canada, St. Mark's Church and the Frontenac Heritage Foundation to restore the over 150-year-old dry stone walls in front of the church

In 2017 new commemorative plaques were installed on the village's heritage houses and a bilingual plaque about the history of the village was installed in the rock garden

In the holiday season each year villagers volunteer to install Christmas lights in the rock garden, and villagers and St. Mark's parishioners go carolling in Barriefield to raise funds for the Salvation Army Christmas hamper campaign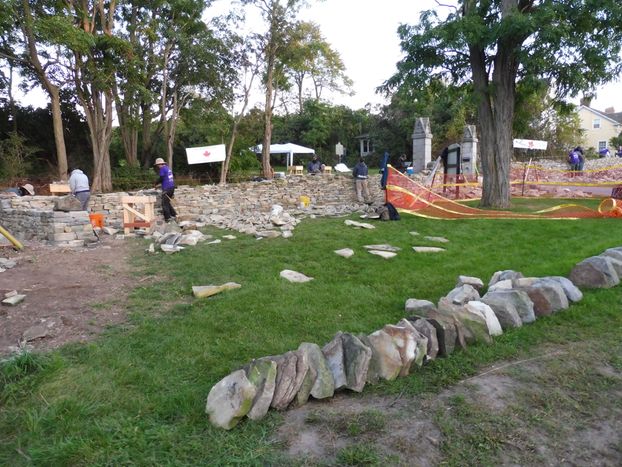 Masons work on the St. Mark's stone wall at the Dry Stone Wall Festival